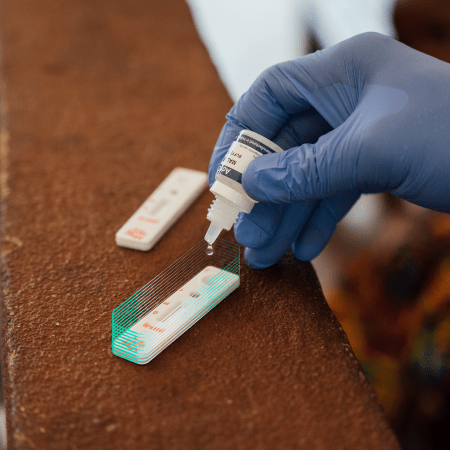 RDTs : Measles and meningitis
Diagnostic tool
Fighting measles and meningitis epidemics through the production of two new rapid diagnostic tests by diaTROPIX
The project
In brief
DiaTROPIX is a new platform for the development and production of rapid diagnostic tests (RDTs) at the Institut Pasteur in Dakar. This non-profit initiative aims to produce new rapid diagnostic tests that can be made available in countries where access to laboratory diagnosis is low or non-existent. 

The MSF Foundation is financing and supporting the development by DiaTROPIX of two new RDTs for measles and meningitis. These two diseases with high epidemic potential represent a real public health problem in countries in which MSF conducts medical programmes, particularly in Sub-Saharan Africa. 
Status of the project
Problem analysis
Development
Evaluation
Deployment
Problem identified

Measles and meningitis epidemics have been virtually eradicated in Western countries thanks to adequate and effective childhood vaccination coverage. This is not the case in many countries in sub-Saharan Africa and other low-income regions where vaccination coverage is low and which do not always have adequate rapid diagnostic capacity. The mortality rate associated with these epidemics is thus very high there. 
MSF's experience in its fields of intervention confirms that the main requirement in responding to epidemics is speed of detection, which makes it possible to respond to the epidemic before it has time to spread. 
The later the epidemic is detected, the higher the transmission, the greater the number of deaths and the more complex the response is to implement. 
 
In Sub-Saharan Africa, delays in detecting an epidemic can be explained by two factors: 
1.    A problem of access to diagnosis (lack of equipment and experts, lack of laboratories and remoteness of laboratories)
2.    Difficulties in feedback of information (long distances, limited infrastructure, transport costs, etc.)
Solution 
RDTs are an effective means of improving access to diagnosis. These tests are developed for use in places where there is no specialized laboratory and enable immediate results to be obtained in the place where care is provided for the patient. Quickly confirming or invalidating a diagnosis makes it possible to start the investigation of an epidemic earlier and thus speed up the response.
The problem of a "non-existent market" blocks the development of these RDTs. 
For measles, for example, some prototypes already exist, but they have never been put into production. Why? Because the laboratories' business model requires guaranteed volumes of orders in order to market and be profitable. This is not the case for responses to measles epidemics. 
For meningitis, there are some RDTs on the market but they are too expensive and their storage and use requirements make them difficult to use in insecure settings.
Supporting the development, manufacturing and marketing by DiaTROPIX of two rapid diagnostic tests (RDTs) for measles and meningitis will make it possible to provide all MSF entities and health authorities around the world with rapid test kits for diagnosis of measles and meningococcal meningitis which are suitable for use in low-resource settings by non-specialist healthcare personnel, at an affordable cost. They must be reliable and robust and their use must not require electricity or complex equipment.
These RDTs will allow cases to be detected rapidly in remote regions and thus speed up the response to these epidemics and make it more effective.
 
Video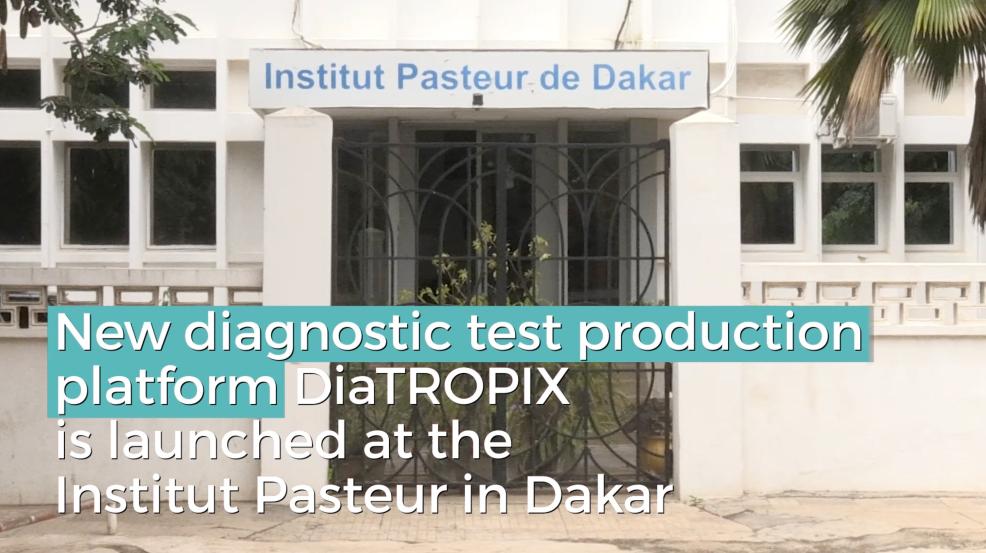 In detail
 
1/  The MSF Foundation and the DiaTROPIX initiative
 
DiaTROPIX is a non-profit production platform created on the initiative of the Institut Pasteur in Dakar, the Mérieux Foundation, the Foundation for Innovative New Diagnostics (FIND) and the Institut de Recherche pour le Développement (IRD) in 2018 to improve access to diagnostic tools for patients suffering from neglected tropical diseases and other illnesses. The goal of DiaTROPIX is to promote and put into production any prototype that does not fit into a business model for profit and whose impact on improving patient care in low-income countries has been demonstrated.
 
In 2017, the Mérieux Foundation, in collaboration with the Institut Pasteur in Dakar, submitted the idea of this platform to the MSF Foundation, which joined the working group to investigate the proposal in greater depth, assess its feasibility and draw up a list of operational needs for MSF. 
 
The location in West Africa, based on the Institut Pasteur in Dakar, allows tests to be developed as close as possible to the patients suffering from these diseases.
 
2/ Impact of rapid diagnostic tests on response to epidemics
These two rapid tests: 
  will provide access to reliable, high-quality diagnosis to vulnerable populations and regions in which these epidemics are endemic and which have been deprived of them up to now. Suited to insecure settings in countries with limited resources, they will be able to be used by non-expert healthcare personnel.
 will allow earlier identification of cases and the pathogen. Combating epidemics is a race against time, and this time saving and precision will allow targeted, effective and above all faster intervention. 
 will also tell health care personnel when it is necessary to send the samples to the laboratory for confirmation. 
3/ Providing access to quality diagnosis in insecure settings
 
RDTs have demonstrated their effectiveness, yet the RDTs available on the market or put into production do not concern all potentially epidemic diseases. Why? 
 
To put an RDT into production, the purchase of large volumes must be guaranteed. There must be a market that will allow the laboratories to make a profit, as the development of an RDT is long and costly (it requires prototyping, clinical trials, evaluations, etc.). 
For measles and meningitis, such markets do not exist. If the MSF Foundation and initiatives like diaTROPIX do not create them by pre-ordering and funding this research, these tests will never be available.
 
By defining the characteristics of the tests we need, and then using and evaluating these products in the field, MSF will demonstrate the urgent need for their existence and continued use in the settings in which we work. Secondly, by getting involved in the pharmaceutical production ecosystem, the MSF Foundation can help to speed up the regulation and marketing of these tests, as well as encourage donors to finance their purchase for use in low-income countries.
 
4/ Role of the MSF Foundation
 
The MSF Foundation has chosen to finance and support the development by DiaTROPIX of two new rapid diagnostic tests (RDTs) for measles and meningitis.
In addition to funding, it also helps with the MSF medical teams to provide clinical evaluations of these tests in fields of intervention in insecure settings.
Lastly, close collaboration with the Institut Pasteur in Dakar is underway on all the work to qualify these tests with the WHO in order to make them available more quickly. 
 
Today, a prototype has already been manufactured, tested and evaluated by the MSF teams and the Institut Pasteur in Dakar. The teams are actively preparing for the production and large-scale deployment phase. 
Galerie