Our approach
The introduction of new tools, new recommendations or reflections that intervene before or after patient treatment contribute to improving health care. This is the case, for example, when a new rapid diagnostic test enters the market, or when an application allows text messages to be exchanged with a cohort of vulnerable patients for better monitoring of their treatment and their state of health remotely. This is where the MSF Foundation comes in. Our team, completely integrated within MSF, is in direct contact with the real problems observed on the ground. To respond to them, we combine the unique resources and knowledge of MSF with the external skills of partners committed to complementary technologies and knowledge.
The Foundation's mission
Creator of new medical tools for the most neglected patients
The mission of the MSF Foundation is to deliver solutions upstream or downstream of MSF care (before and after the care) that improve medical care in the regions where MSF operates.
How? We create the conditions necessary for cooperation between these multidisciplinary energies and knowledge (medical, technological, epidemiological, and sociological), by enhancing the resources to which we have access in MSF and by optimizing our network of external partners. We offer new products and approaches responding to medical problems: a pathology, a lack of access to diagnosis, a lack of patient rehabilitation follow-up. Over the years and whilst conducting R&D projects, we have acquired expertise in the management of multi-partner projects with high uncertainty, as well as cross-disciplinary skills in regulations, data protection, the implementation of ethical and legal frameworks.… If you want to know more, have a look at the projects we are developing :
See our projects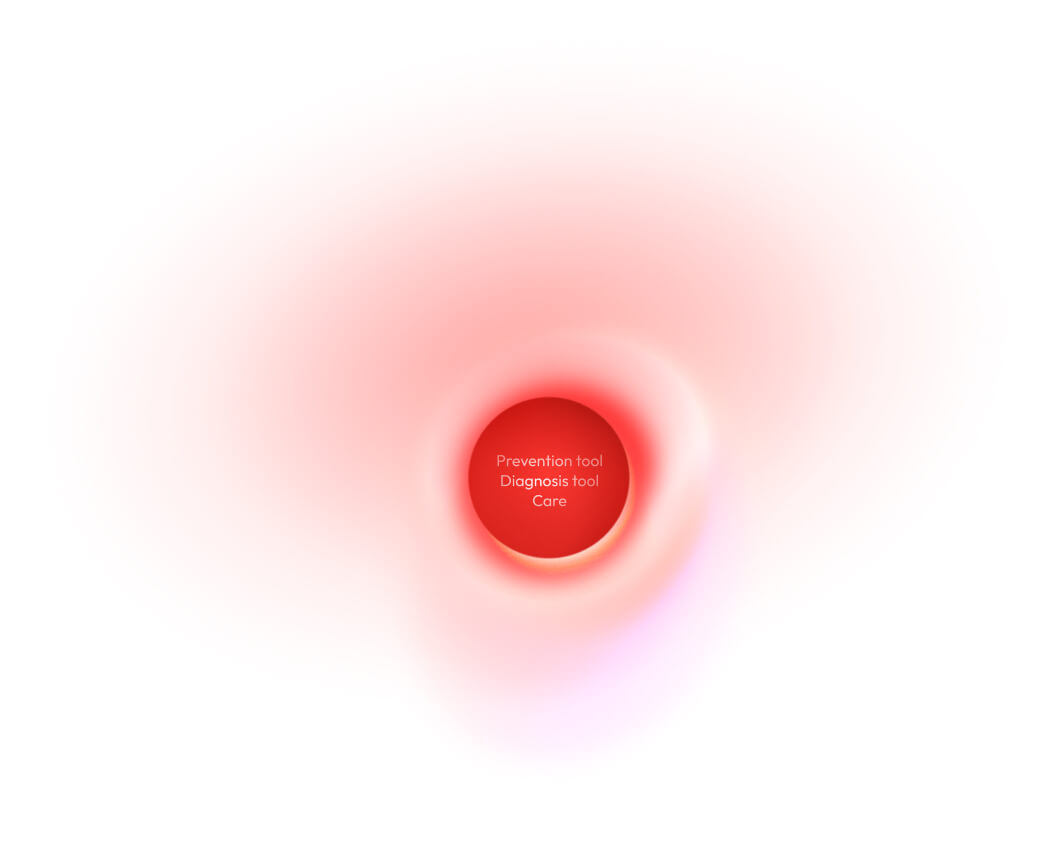 We participate in the provision of tools for diagnosis, prevention, and patient care, aiming to improve the way MSF provides health care.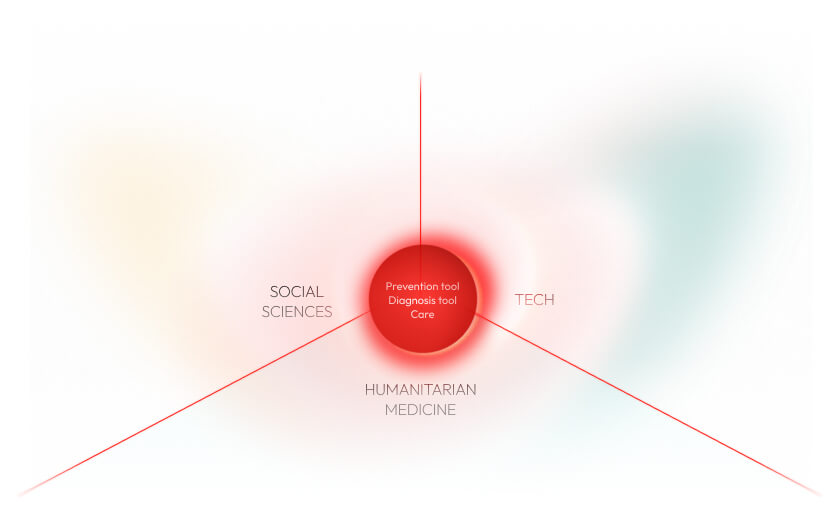 At the crossroads of three disciplines
Social science and humanitarian knowledge
The Centre de Réflexion sur l'Action et les Savoirs Humanitaires (CRASH) is a unique structure in the world of NGOs. Its purpose is to inspire debate and critical reflection on field practices and public positions, to improve the association's actions. CRASH team members conduct and direct studies and analysis of MSF actions. They participate in internal training sessions and assessment missions in the field. They represent the association at meetings, conferences, and other research and discussion forums, particularly those connected with universities, IGOs and NGOs. To learn more, consult their website: MSF Crash
Digital technologies
The potential of digital technology to provide better care is not new. Whether it is the use of scanners and 3D printers to manufacture prostheses, the integration of artificial intelligence to improve a diagnostic tool or the use of mobile phones to speed up epidemic alert procedures, algorithms and telecommunications tools have become an integral part of the international medical aid framework. Yet, to move from theory to practice in a sustainable way, it is essential to define the proper use of this digital health so that it results in the improvement of the quality of care, of access and improves patient-doctor relationships. To do this, applications need to be designed together with the stakeholders of the health systems, the local telephone operators and with the regulators in places where we work. Above all we need to continue the demanding work of scientific evaluation. There are still a lot of efforts to be made to establish appropriate regulatory and ethical frameworks. These are the necessary conditions to remove the obstacles that still hinder their large-scale deployment.
Humanitarian medicine
"The urgency and the constraints of some disasters force MSF teams to take risks, to resign themselves to a lot of suffering, handicaps and deaths that could have been avoidable. Giving up habits that have become ineffective, official protocols, can lead to doing less well, to doing harm and wasting resources, but lacking initiative is tantamount to accepting a critical medical situation"*. Constrained by extreme situations and lack of resources, MSF medical and paramedical staff and operations managers have had to innovate since the association was created by introducing new medical practices in humanitarian situations or by creating satellites (DnDi, CAME, EPICENTRE, MSF LOGISTIQUE) to learn more about the subject, you can refer to *this CRASH article.
At the heart of the MSF movement
By being at the heart of MSF operations, we became aware of a problem that existed at the level of the MSF bacteriology laboratories. Lab technicians were able to perform an Antibiotic Bacteria Susceptibility Test (AST) but struggled to produce the complex interpretation required, normally performed by a microbiologist, to properly direct the clinician to the most appropriate treatment course for the patient.
MSF's medical representatives reported this issue to us, quantified and based on their experience in the field. After an inconclusive market study on existing devices, we started from the hypothesis formulated by a researcher in bioinformatics and a doctor in microbiology from MSF that image recognition and artificial intelligence could help overcome the shortage of microbiologists. Finally, a generous donor agreed to finance this risky part of the project.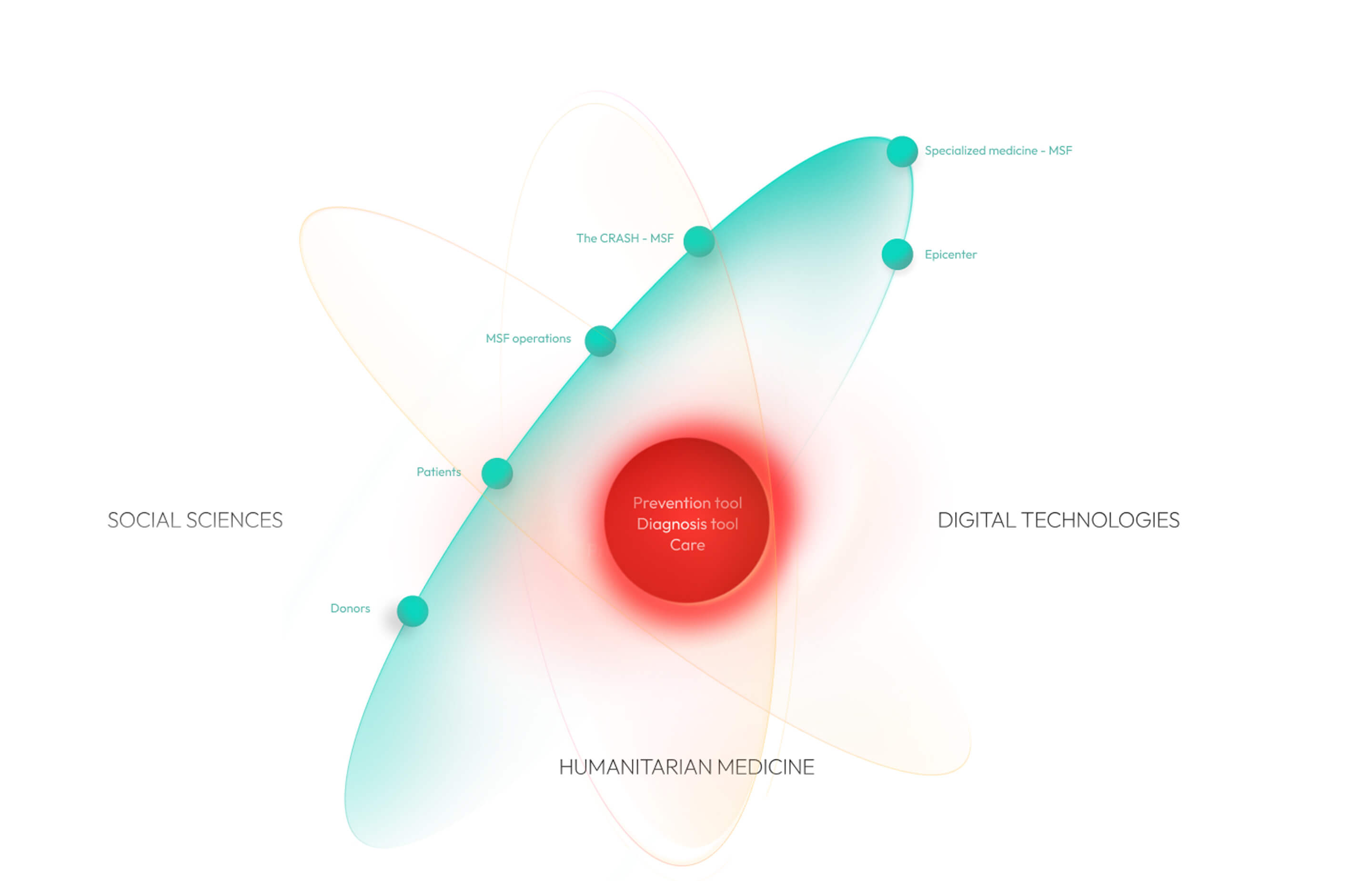 Engaged and complementary partners
We put in place a consortium, with a French university hospital and multiple academic research centers to create a proof of concept that would validate our hypothesis.
Nonetheless, the road is long between a publication on a prototype and a certified medical device intended for wide use by non-expert users.
We were accompanied by a dozen volunteer developers from a large IT services company to help us move from concept to product.
A French SME agreed to offer us the operating license for its expert system to integrate it into the system.
This analysis and the gathering of resources takes a long time, an incompressible temporality unavailable in the routine activities of the association. The Foundation thus complements the work of the association. Yet the inclusion of the actors of the ecosystem in which the innovation will be grafted, optimizes the chance of a real change in practice and of having an impact on the care of vulnerable patients: This is the heart of our business.
We have been supported by legal, ethical, epidemiological, and regulatory specialists to make this in vitro diagnostic application available free of charge to as many people as possible. Finally, we continue to include research partners and health policy officials in our target countries to validate the innovation scientifically.
We therefore initiated our reflection with what came from the MSF operations and then aggregated the external skills of partners all along the process of creation of a medical innovation. For more info on Antibiogo: Antibiogo project page