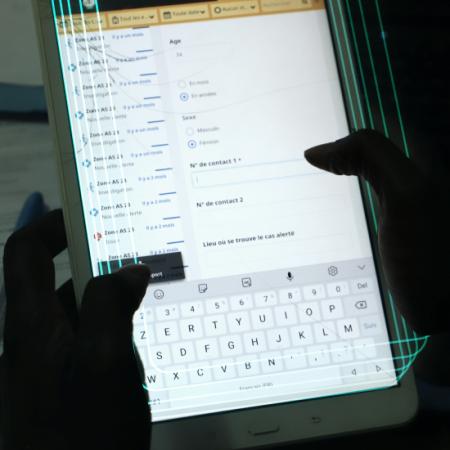 Alert-Epidemic
Diagnostic tool
The digitalisation of alert systems for more effective epidemiological response.
The project
In brief
Alert-Epidemics is an alert processing and notification system to detect and respond to outbreaks of infectious diseases in precarious situations, including measles, meningitis, cholera and Covid19.
Status of the project
Problem analysis
Development
Evaluation
Deployment
The identified gap
Niger regularly experiences large-scale epidemics. Its paper-based surveillance system and the difficulties of circulating information in precarious situations lead to long delays in reporting epidemic alerts. Intervention teams from MSF or the Ministry of Health often arrive too late and very rarely have a clear picture of the health situation, making effective intervention and preventive actions difficult. The early identification of an infectious disease epidemic allows for a faster and targeted response. This could limit the transmission of the disease, and would, thanks to faster management, reduce mortality. 
The MSF Foundation's response
The MSF Foundation and its partners have strengthened existing surveillance systems – at community, peripheral, regional and national levels – by developing and then deploying a digital platform, suitable for areas where internet connection is extremely limited. It enables a faster and more targeted response by guiding users to instantly identify and report outbreak-prone disease case alerts, increasing the number of alerts reported and their speed of transmission. 
Furthermore, these feedback loops create a better understanding of epidemiological trends by building a knowledge database. This allows MSF and MOH teams to better plan prevention activities and thus provide a more effective response.
Video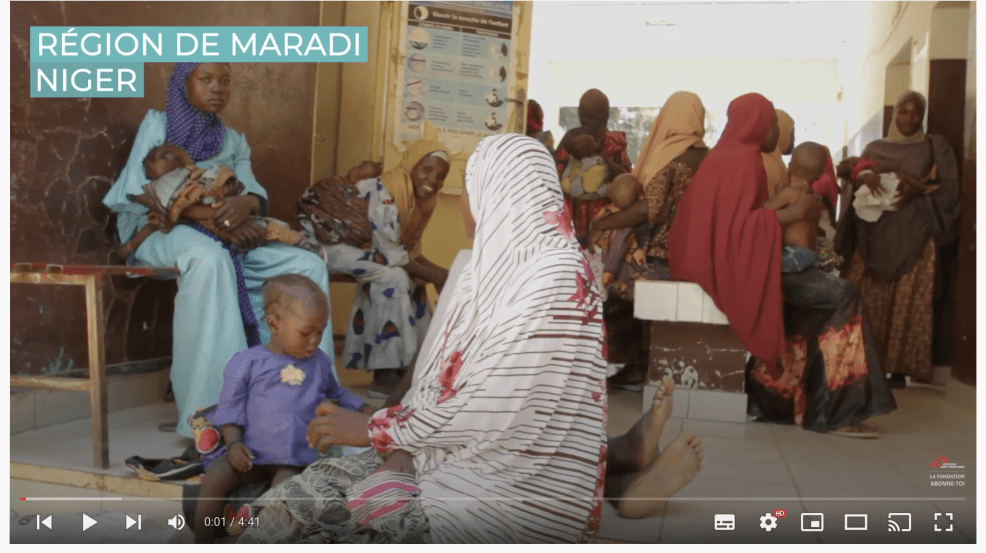 In detail
In 2020, Niger, like others, is hit by Covid-19. In addition to the direct effects of the disease, the pandemic is likely to cause other serious long-term consequences on the population's health. During this time, many people struggle to access care. Around the world, in 2020, 23 million children missed their routine vaccination, raising fears of major epidemic outbreaks, particularly in MSF intervention areas. The concern is great in a country like Niger, already subject to recurrent epidemics of infectious diseases, resulting in high rates of morbidity and mortality. Measles and meningitis are preventable by vaccination, but they can spread extremely quickly when vaccination coverage is insufficient.
To respond to this major challenge, the MSF Foundation, in collaboration with Epicenter, the Niger Ministry of Health and Medic Mobile, developed the Epidemic Alert program. It comprises today two applications in Niger, Alerte-Covid19 and Alerte-Niger. It contributes to the fight against epidemics by improving the system for detecting and reporting alerts.
Alerte-Covid19 a été la première brique applicative mise en œuvre au Niger. Cette application a été créée par La Fondation en collaboration avec Epicentre et Medic Mobile à la suite d'une demande du ministère de la santé publique nigérien. Elle a participé grandement à la stabilisation de la situation sanitaire au Niger, et a déclenché une réflexion sur la possibilité d'adapter le système pour faire face à d'autres épidémies importantes au Niger et dans d'autres pays.
Outil de gestion, de réception et d'investigation des alertes de Covid19, Alerte-Covid19 est opérationnelle dans tout le Niger. Elle guide les opérateurs du Call Center du Samu afin de déterminer si les personnes qui les contactent présentent des signes ou des symptômes de l'infection par le virus pour ensuite les signaler via une plateforme dédiée. Elle permet également aux agents de santé et aux points focaux des centres de santé et hôpitaux d'y notifier les alertes Covid19. Cette plateforme centralise l'ensemble des données provenant du centre d'alertes national et des centres d'alertes régionaux. Les cas suspects remontés grâce à l'application sont instantanément redirigés par régions et assignés aux investigateurs qui débutent une enquête sur le terrain pour déterminer le diagnostic. Une fois l'investigation effectuée, l'investigateur notifie son rapport directement sur la plateforme, qui permet aux autorités sanitaires de déterminer la nécessité d'autres actions telles que la recherche de contacts. A ce jour 97% des alertes reçues ont été investiguées.
Interview with Bachir Assao, epidemiologic coordinator at Epicentre of the Alert Niger project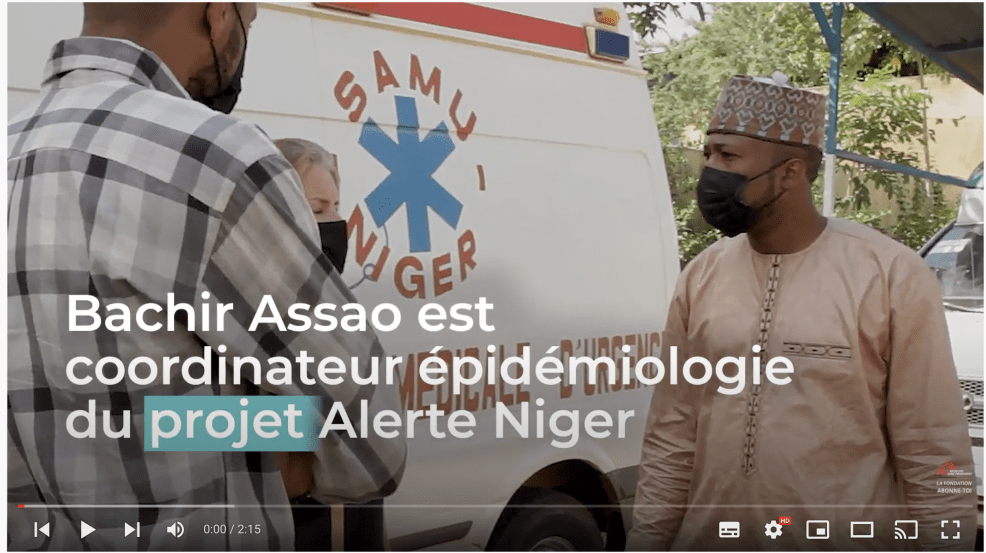 Alerte-Covid19 was the first application implemented in Niger. This application was created by The Foundation in collaboration with Epicenter and Medic Mobile following a request from the Nigerian Ministry of Public Health. It played a major role in stabilizing the health situation in Niger and triggered a reflection on the possibility of adapting the system to deal with other major epidemics in Niger and in other countries.
Alerte-Covid19 is a tool for managing, receiving and investigating Covid19 alerts and is operational throughout Niger. It guides Emergency Call Center operators to determine whether the people who contact them show signs or symptoms of infection with the virus and then report them via a dedicated platform. It also allows health workers and focal points in health centers and hospitals to notify Covid19 alerts. The platform centralizes all data from the national alert center and regional alert centers. Suspected cases reported through the application are instantly redirected by region and assigned to investigators who begin an investigation in the field to determine the diagnosis. Once the investigation has been carried out, the investigator notifies his report directly on the platform, allowing health authorities to determine the need for other actions such as contact tracing. To date, 97% of alerts received have been investigated.
Alerte-Niger is the second application developed by the MSF Foundation together with the Ministry of Public Health of Niger, Epicenter and Medic Mobile. By being deployed in the Maradi Region, this application, designed to fight against epidemics of measles, meningitis and cholera, now complements the Epidemic Alert program.
Alert-Epidemics in pictures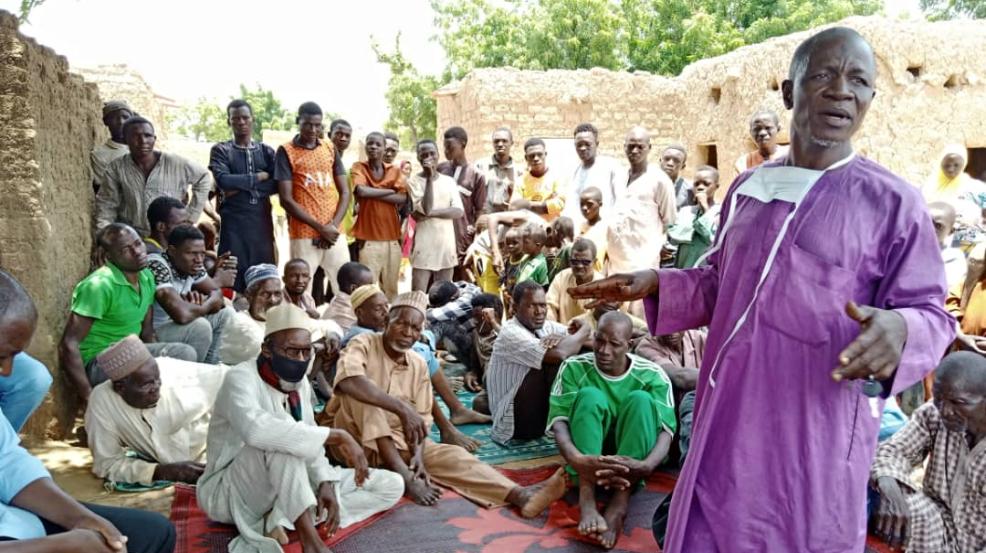 Health district of Madarounfa. Safo health area. Nigeria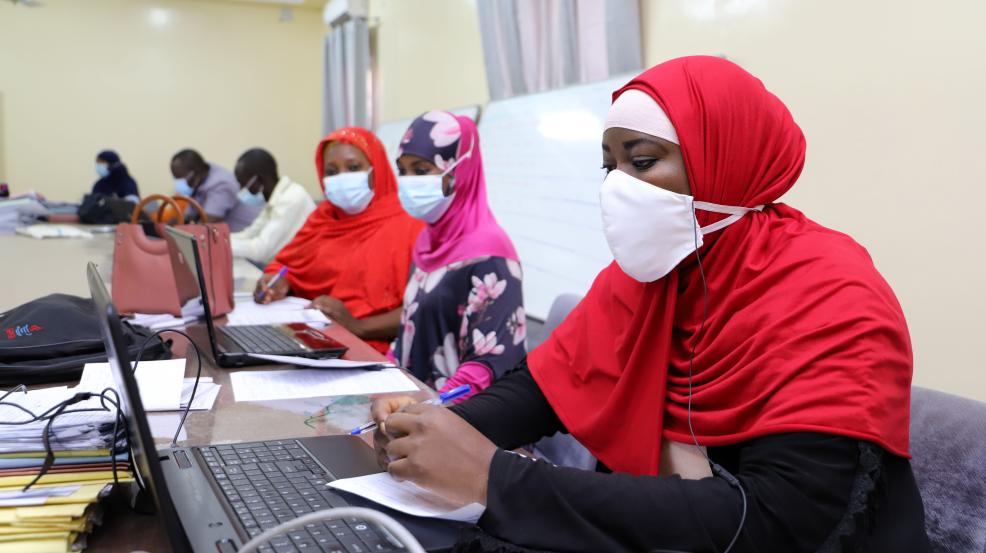 Madarounfa and N'yelwa sanitary centre, November 2021, Nigeria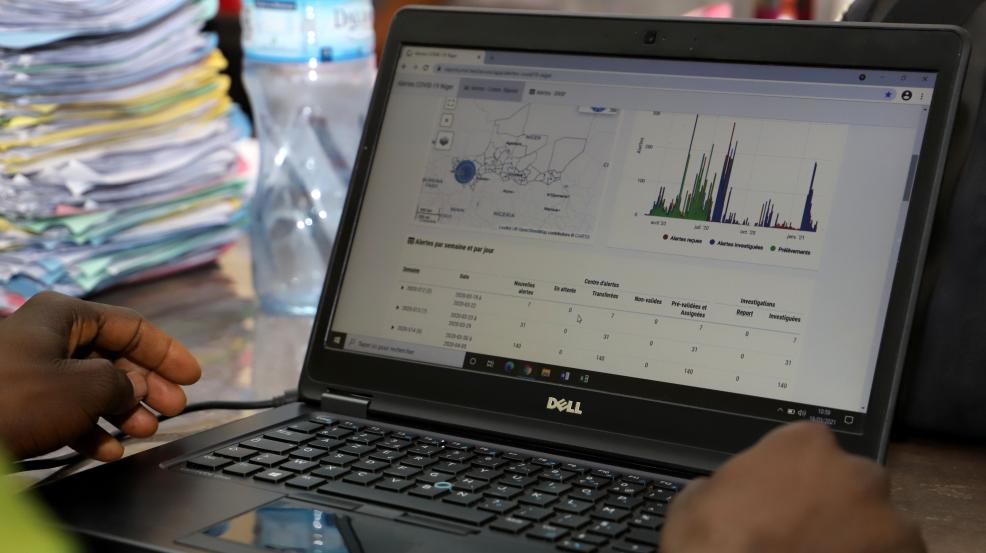 Niamey. Niger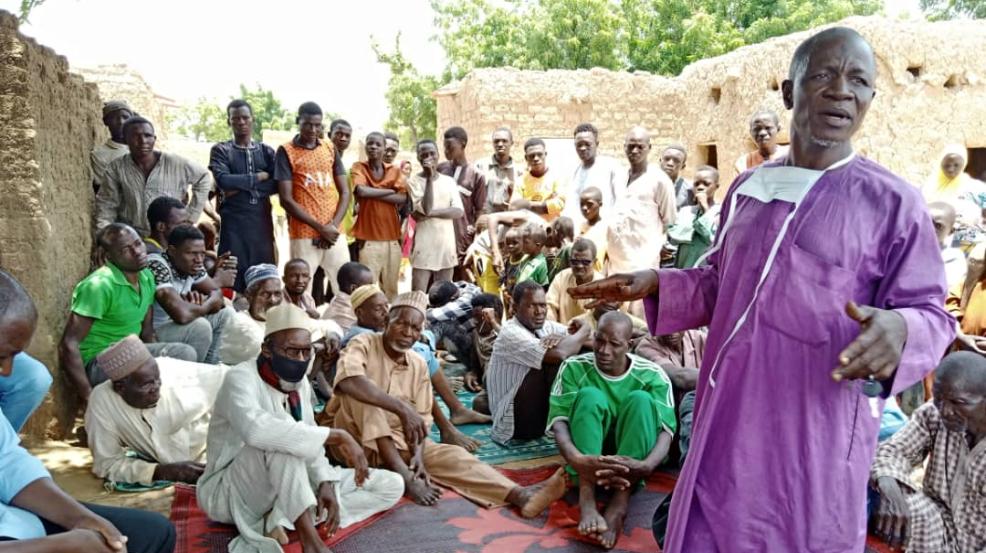 Health district of Madarounfa. Safo health area. Nigeria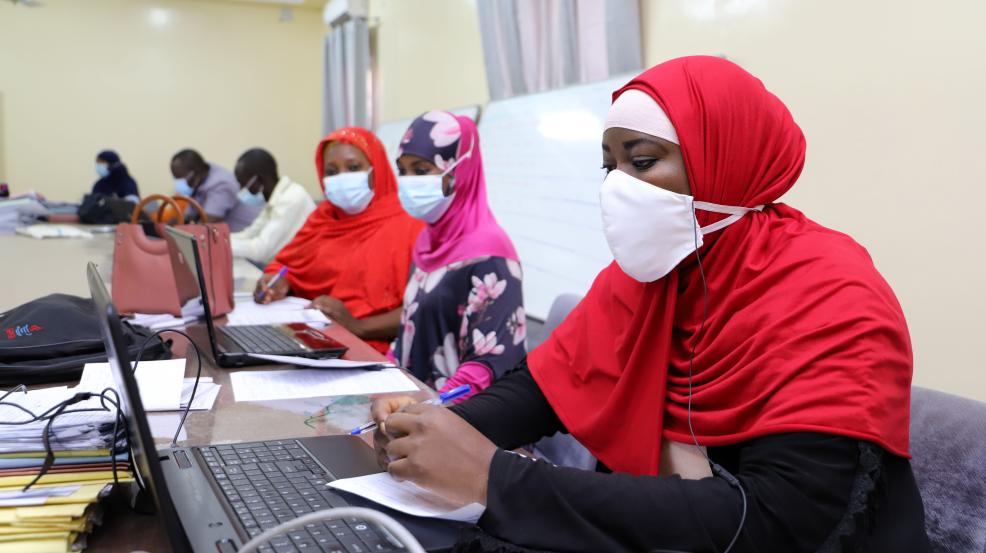 Madarounfa and N'yelwa sanitary centre, November 2021, Nigeria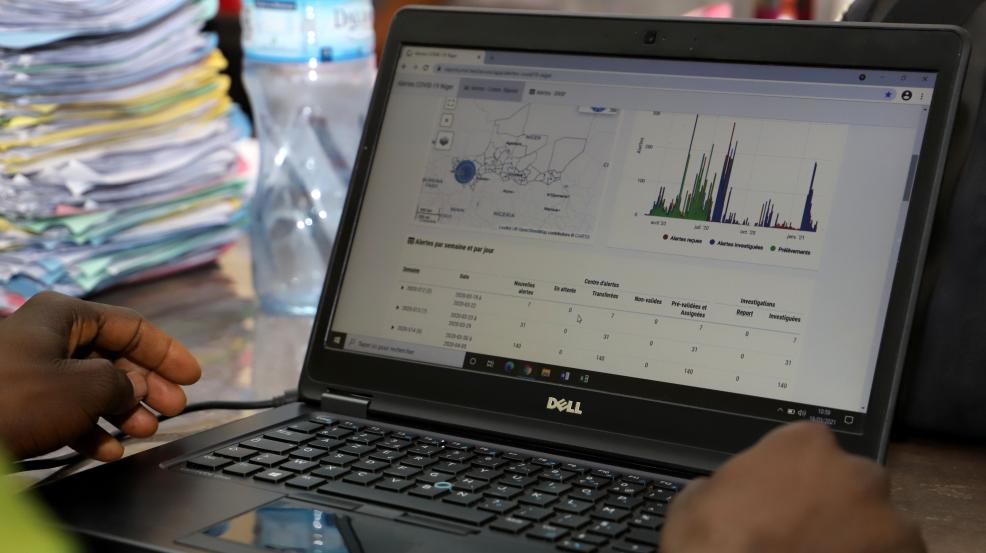 Niamey. Niger
What were the main stages of the project ?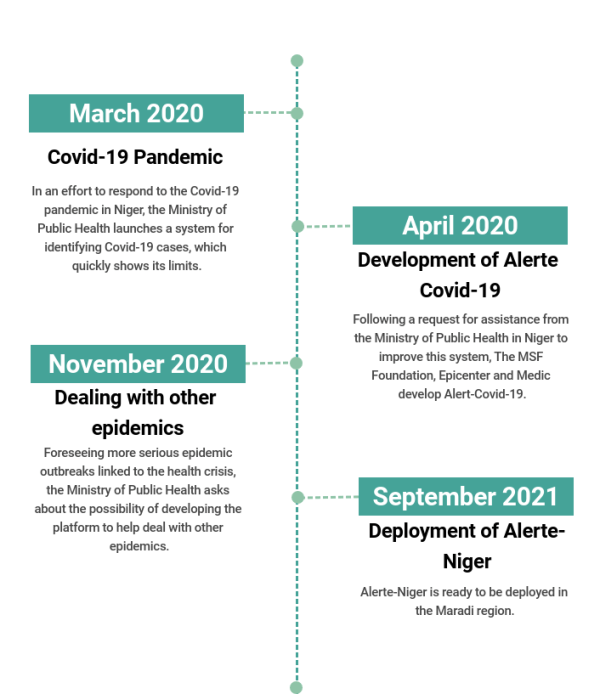 Who's involved?
Our partners
Alert-Epidemic
Contribute
You wish to specifically support the development of this project? Contact Catherine Béchereau - Loyalty and Philanthropy Manager 01 40 21 56 88 - [email protected]